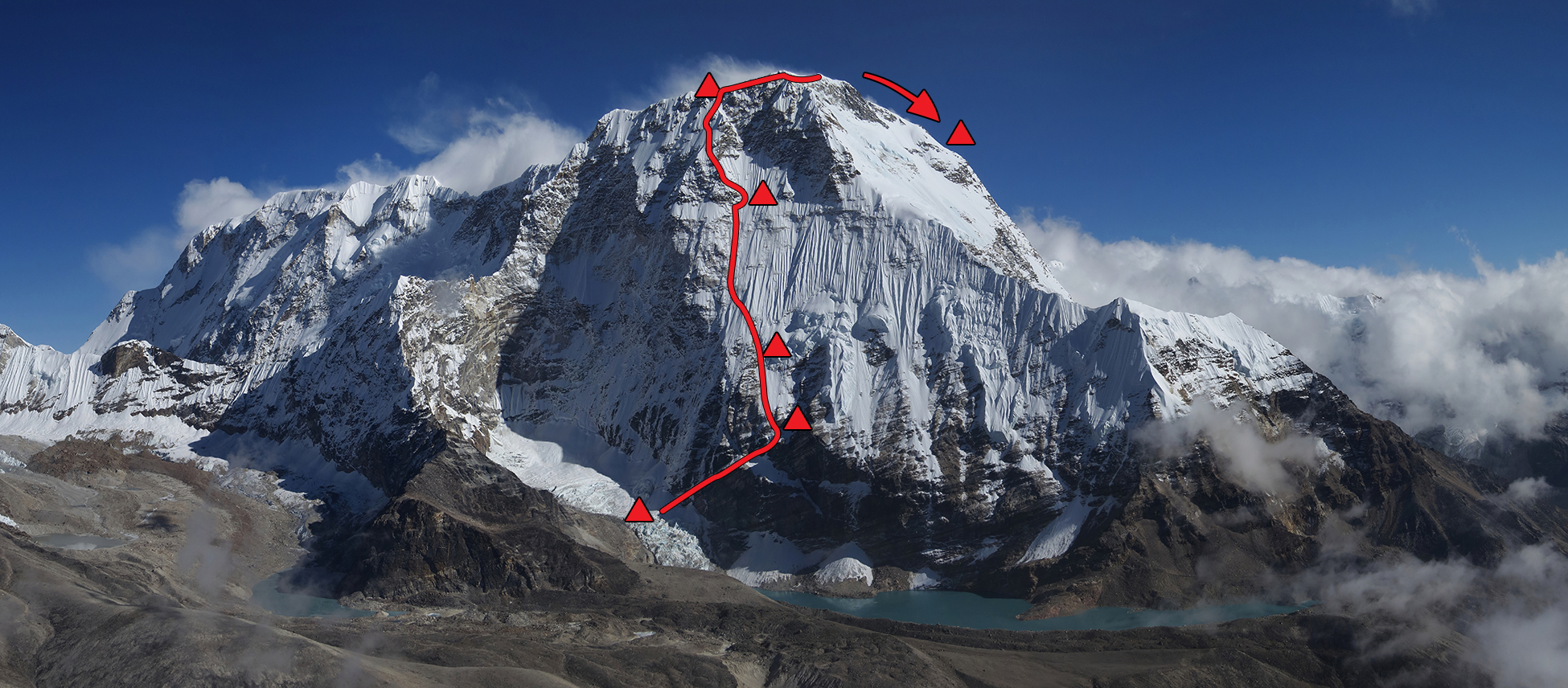 UFO Line on the northwest face of Chamlang (7,321 meters). The seventh bivouac site - on the descent - is hidden.
©Andy Houseman (autumn 2012 photo)/American Alpine Journal
MAREK HOLEČEK-ZDENĚK HÁK (CZECH REPUBLIC)
NORTHWEST FACE, UFO LINE, 2,000M, WI5 M6, AND TRAVERSE OF THE MOUNTAIN, MAY 17-23 ROUND TRIP FROM BASE CAMP

Since he first saw it in 2001 Marek Holeček had dreamed of climbing the great northwest face of Chamlang in Nepal's Mahalangur Himal. Others had shared the same dream, and after more than half a dozen attempts the face had become one of the most coveted in the country. When Holeček and Zdeněk Hák arrived in spring 2019 it was obvious the face had little snow and a lot of hard water ice. Outflanking objective dangers in the lower section would prove to be one of the keys.
From a bivouac at 5,300m on the glacier below the face the two Czechs headed up more or less directly below the summit. On the fourth day they reached the upper east ridge and bivouacked 80m below the top. On May 21 they crossed the summit and spent the rest of the day trying to navigate the Original Japanese route on the south ridge. This proved more difficult than expected. Two more bivouacs - without food - and difficult down-climbing and rappelling in often poor visibility were needed to reach the valley.
The route was named UFO Line as a tribute to Reinhold Messner and Doug Scott, who in 1981, with Sherpas Ang Dorje and Pasang, were the first to climb the north side of the Chamlang massif and reach one of the middle summits. There, they were puzzled by a box-like object that hovered above them, shining magnificently in the midday sun.